What to Know About the New 2023 Chrysler Pacifica
The minivan has made a name for itself in recent years, and is no longer the vehicle ignored in the automobile community. Instead, the minivan now ranks as one of the best family-friendly vehicles on the market given its impressive cargo space, passenger comfort, and all-around driveability. The new 2023 Chrysler Pacifica ranks as one of the best minivans to own today. Order yours now!
Power and Performance
The 2023 Chrysler Pacifica is a minivan with a luxury look and feel— not the typical passenger van relegated to travel in between sports games, theater performances, or scouting activities. Rather, it's designed for serious road travel.
The new Pacifica is engineered for top-tier performance. Front-wheel drive comes standard on both the gasoline and hybrid options. The traditional gasoline powertrain features an impressive 287-hp 3.6L V-6 engine with a nine-speed automatic transmission.
While most minivans have little to no towing capacity, the new Pacifica has the towing capacity to move approximately 3,600 pounds.
Interior and Cargo Space
From the outside, anyone can see the amazing aesthetic of the Chrysler Pacifica in seven colors: black, granite crystal, ceramic gray, silver mist, fathom blue-pearl, velvet red pearl, and bright white. Gasoline models feature four distinguishable trims ranging from the base Touring model to the Pinnacle AWD.
Of course, the interior is where you can see all the cleverly redesigned 2023 Chrysler Pacifica configurations. Each Pacifica offers exceptional spacing and storage with multiple compartments, cupholders, cubbies, and slide-out bins. The Pinnacle trim features leather upholstery and lumbar pillows for extra comfort and luxury.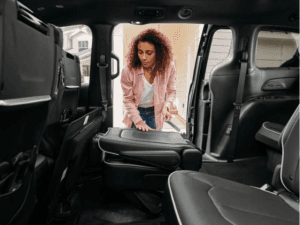 One can also expect the improved infotainment system display. A 10.1 inch touchscreen center display has Apple CarPlay and Android Auto connectivity. There's also an additional Wi-Fi hotspot, as well as twelve USB ports, climate control vents, and optional charging stations. You can also choose the available entertainment systems for the rear-seats with dual screens for back-seat passengers.
Plug-In Hybrid Option
If you're looking for a 2023 Chrysler Pacifica for sale, you'll be happy to know that there is also a plug-in hybrid option available. The PHEV comes with a 260-hp V-6 engine and two electric motors powered by a 16.0-kW lithium ion battery. Average fuel economy for the hybrid is around 84 mpg-e. Electric-driving alone can support around 33 miles.
Hawk Chrysler/Dodge/Jeep
Whether you're looking for a new Pacifica or another new vehicle, come down to Hawk Chrysler Dodge Jeep. Check out our selection of Pacificas on the lot. If you don't find one you're looking for, we can help you order exactly what you are looking for.