Build a 2023 Jeep Wrangler for Yourself
The 2023 Jeep Wrangler is here and with all the models and options available, you can build your own fully customized 2023 Wrangler.
2023 Jeep Wrangler Sahara 4×4
From the highway to offroad over the most rugged terrain, the Jeep Wrangler Sahara 4×4 will take you to just about any place on planet earth you want to go! The 2023 Sahara comes in both 2-door and 4-door versions, and you have five engine options, including the EcoDiesel, the plug-in hybrid Wrangler 4xe, and the V8-powered Rubicon 392.
You also have a choice of trim levels, from the basic manual Sport to something a bit more road-oriented with the Sahara.
Other great features include remote start, side-impact airbags, keyless entry, navigation system, and backup camera, to name only a few.
Whatever version and features you settle on, you'll have a blast driving your 2023 Jeep Wrangler 4×4.
2023 Jeep Wrangler Magneto
Want to go off road while doing something to save the environment? If so, the 2023 Wrangler Magneto EV might be the perfect vehicle for you. With its 6 speed manual transmission, 625-horsepower engine, and 40-inch off-road tires, the Magneto will take you over the most challenging and rugged terrain.
2023 Wrangler Sport RHD
With its V6, 3.6L engine and 8-speed automatic transmission, the Wrangler Sport gives you traditional Jeep ruggedness and performance capabilities, combined with fuel economy – 17 City/23 Hwy.
Other features, to name a few, include bluetooth, heated seats, side-impact airbags, keyless entry, navigation system, and premium audio.
No matter where the road may take you, the Jeep Wrangler Sport RHD is sure to turn heads.
Jeep Wrangler Towing Capacity
If you're considering a 2023 Jeep Wrangler, you no doubt want to know something about its towing capabilities, and it has plenty to spare! With its 4×4 capability and five engine options, the 2023 Wrangler has a towing capacity of up to 3,500 pounds when properly equipped.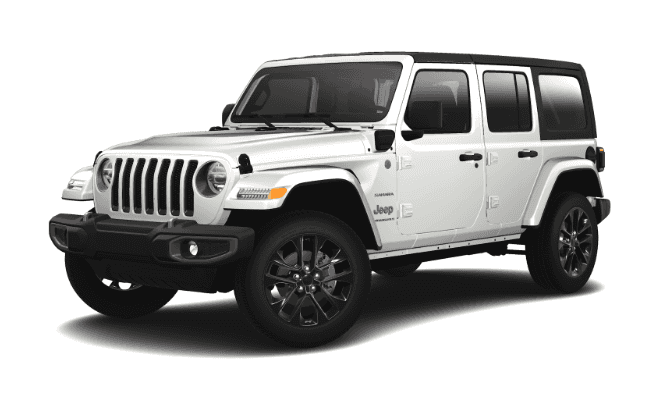 In addition, the Wrangler has a 47.4 degree approach angle, 40.4 degree departure angle, 33.6 inches of water fording capability, and 12.9 inches of ground clearance.
With specs like these, the 2023 Jeep Wrangler should be able to handle any challenge you throw its way – and we invite you to come by Hawk Chrysler, Dodge, Jeep to test drive one for yourself!
Additionally, we have finance options suitable for just about any budget, and you can even start exploring your finance options online.
Come by Hawk Chrysler, Dodge, Jeep to speak with a member of our knowledgeable customer service team or call us at 708-435-2290 to schedule an appointment. We're ready to deal, and we want to put you behind the wheel of a fantastic 2023 Jeep Wrangler today!